For 25 years, the acknowledged Cypriot designer, has been creating every season exceptional bridal creations for women who are about to get married.
The leader of wedding gowns in our island has managed to be loved from the very first moment, continuing to have a very successful course in the world of fashion with her outstanding, bridal creations.
Having in mind the trends of the time, what women ask for and how she can transform them with her fabulous creations as well, she has managed to earn trust both in Cyprus and abroad.  
From the beginning of her career, when she came back with a suitcase full of dreams, inspiration and passion for creation, with her degree from the Istituto Marangoni at Como, Italy, with knowledge from acknowledged teachers, she energetically continues, with the same professionalism and zeal, designing bridal creations and evening gowns, with emphasis on perfection and special fabrics that give a unique result.
The creations bearing her signature impress women of every age, as she, more than anyone else, knows their needs, and depending on the special occasion they will attend, she designs the ideal dress and wedding gown for them.
With her trained team that accompanies her, she organises and carries out her own fashion shows, which have had enormous success and effect, she participates in exhibitions while she often travels abroad to choose fabrics and get inspiration for new ideas.  
Calia Monoyiou, who recently moved to her brand-new studio, welcomes women who wish to have their dream wedding gown created by her, better than they have ever imagined it.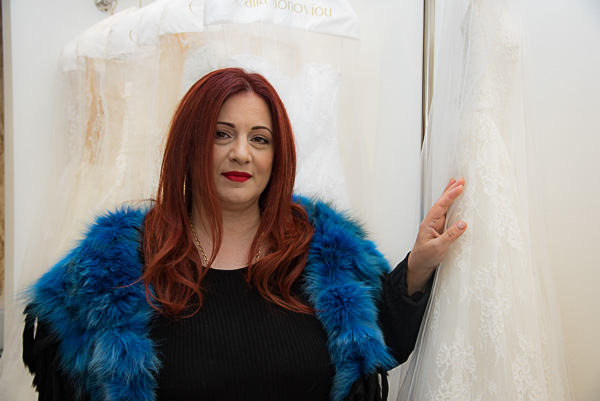 Her purpose is to show what commands fashion for women and her overall aim is to highlight the social/health issues that plague women in the modern world today.
Calia Monoyiou remains committed to the Art of Fashion and continues to create for the modern woman of today.
A WEDDING DRESS MUST REFLECT THE PERSONALITY
AND STYLE OF A WOMAN.​​​​​​​​​​​​​​​​​​​​​​​​​​​​​​​​​​​​​​​​​​​​​​​​​​​​​​​​​​​​​​​​​​​​
Calia Monoyiou has passed several stages in her career with great success such as:
-  Pancyprian Beauty Pageants Carlsberg incooperation with the television station Sigma (1994, 1999, 2002).
-  Fashion Show at Aphrodite Hotel (2006/07)
-  Collaborated with Demeter Sergius (Star Kypros 2007), who came in second place out of 85 dresses in Miss Universe 2008 (Vietnam)
-  Presentation Subject: Sabbia-sand (November 2008)
-  Personal Fashion Shows.
-  Group Fashion Shows in Cyprus, England and Italy.
-  Fashion Show at Villa Olmo in Como Italy (1989)
-  Fashion Show at Le Meridien Hotel in collaboration with Lady Cesium (1993).